Two Chiefs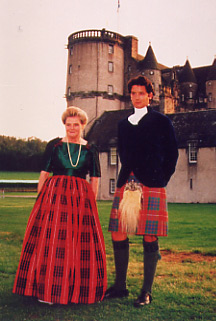 The Frasers of Philorth, Lords Saltoun, being the senior line, are Chiefs of the name of Fraser, although a lowland family. Lord Lovat is Chief of the very numerous Highland Clan Fraser of Lovat, based in Inverness-shire.

Some people are confused as to the relative positions of Lady Saltoun and Lord Lovat. It is not easy. Lady Saltoun is Chief of the name of Fraser. That means she is head of the senior line of Frasers. People who are of Fraser blood are her kin. But Lord Lovat, who is descended from a younger brother of Sir Alexander, the Chamberlain, is Chief of Clan Fraser of Lovat, and many of the names associated with Clan Fraser, (see above) probably owe their allegiance in the first instance to him, rather than to her, particularly if they are descended from Boll o' meal Frasers, that is people of other names who took the name of Fraser in return for land and food given them by Lord Lovat. But they and their descendants must, in many cases, have married people who were Frasers by blood. Once they were living in Fraser country, they could scarcely have helped doing so, at a time when people living 15 miles away were considered foreigners, because you did not marry into another Clan unless it was improbable that there would ever be war between your clans. So there is no way of being sure in a great many cases whether Frasers are of the blood or not, but it is probable that many have a genuine Fraser descent, however indirectly.

Distinguished Frasers

Many people distinguished in public life and the armed forces have been Frasers. Among them were Simon Fraser, the explorer, who discovered the Fraser river; General Simon Fraser of Saratoga fame; Admiral of the Fleet the Lord Fraser of Northcape; the Rt. Hon. Peter Fraser, Prime Minister of New Zealand 1940-1949; the first Lord Strathalmond, Chm. B.P.; Hugh Fraser, Lord Fraser of Allander, who founded the House of Fraser, and at one time owned Harrods; the late Lord Fraser of Kilmorack, Chm. Conservative Party; Professor Sir James Fraser, Professor of Surgery at the University of Southampton; the Very Reverend John Annand Fraser, at one time Moderator of the Church of Scotland; and still living: Lord Fraser of Carmyllie, Lord Advocate, 1989-92; Sir Charles Fraser, Pursebearer to the General Assembly of the Church of Scotland; General Sir David Fraser, retired, author of many biographies and novelist; Marion, Lady Fraser, Lord High Commissioner to the General Assembly of the Church of Scotland; Sir Simon Fraser (knighted 1918) whose grandson the Rt. Hon. Malcolm Fraser, was Liberal Prime Minister of Australia 1975-1983; and Lt. Ian Fraser, VC, Royal Navy Reserve.

Many Frasers settled in the United States or Canada after the war against the French in Quebec. Many others emigrated to those countries and to Australia and New Zealand. There are Frasers in many countries throughout the world.