Arms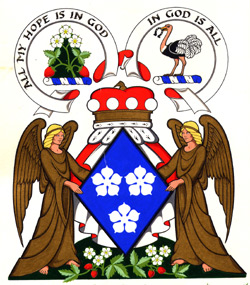 Arms: Azure, three fraises or cinquefoils Argent
Crest: Dexter, on a mount a flourish of strawberries leaved and fructed Proper
Motto: Dexter, All my hope is in God
Supporters: Two angels Proper with wings expanded and vested in long Garments


Standard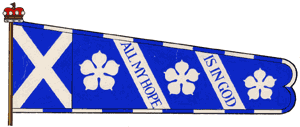 Standard: Azure, a St. Andrew's Cross Argent in the hoist and of the Livery Azure upon which is depicted the badge three times along with the Motto "All my hope is in God" in letters Azure upon two transverse Bands Argent


Pinsel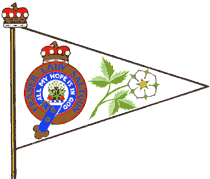 Pinsel: Argent, on a wreath of the Liveries the Crest as above, within a strap Azure, buckled and embellished Or inscribed in letters Argent "All my Hope is in God", all within a circlet Or fimbriated Gules and blazoned With the style "Fraser, Lady Saltoun" in letters Azure, the circlet Ensigned of a Lord of Parliament's coronet Proper, and in the fly a Strawberry flower slipped and leaved Proper.

The arms depicted above may only be used by The Lady Saltoun


Badge: A fraise Argent

Crest Badges

Badges which may be used by Clansmen


Fraser
Fraser of Lovat


These images came from the Clan & Family Encyclopeadia edited by George Way.
The definition of Clansmen or Clanswomen covers the Chief's relatives, including his/her immediate family, and ALL members of the extended family called the Clan, whether bearing the Clan surname, or that of one of its Septs; in sum, all those who profess allegiance to that Chief and wish to demonstrate their association with the Clan.

It is correct for these to wear their Chief's Crest encircled with a STRAP AND BUCKLE bearing their Chief's Motto or Slogan. The strap and buckle is the sign of the Clansman, and he demonstrates his membership of the Clan by wearing his Chief's Crest within it. Although the Crest Badge is purchased by and is therefore owned by the Clansman, the heraldic Crest and Motto on it belong to the Chief and NOT to the clansman. They are the Chief's exclusive heraldic property, which the Clansman is only thus permitted to wear.

Flags

At Highland Games wherever they may take place, where other Clans are present, it is proper to display flags which show the Clan Fraser Clansmen's Crest Badge, comprising the Chief's Crest with a strap and buckle inscribed with the Motto or Slogan, although the name of the Clan should NOT be added, as Clansmen should know their own Crest Badge.

The flag may be either a Banner (flown from a vertical pole attached to one side of it) or a Gonfanon (suspended from a horizontal cross bar along its top edge).

However, it is NOT correct to use the Banner or Gonfanon in the presence of the Chief, only when the Chief is not present.

The Standard may ONLY be used by the Chief, and the standard of a Chief who is a Lord of Parliament should be 5yrds long.

Any flag bearing the plain arms may only be used by the Chief.

The Pinsel is a flag used to denote a person to whom the Chief has delegated authority to represent him on a particular occasion. It should be 4'6" long and 2' high.


| | |
| --- | --- |
| | |
| Banner | Gonfanon |
Scottish Heraldry
The Court of The Lord Lyon
The heraldic authority of Scotland is vested in the person of the Lord Lyon King of Arms. He operates from the Court of the Lord Lyon in Edinburgh. They have a good website at http://www.lyon-court.com This web-site contains many useful links which I have not given here, as there is no point in duplicating them
The Heraldry Society of Scotland
If you want know more about heraldry or are interested in acquiring your own Scottish arms, you will find a substantial amount of information on the subject at the Heraldry Society of Scotland web site here: http://www.heraldry-scotland.co.uk
Fraser Heraldry
An interesting website has been produced by Stephen Plowman, showing all known Fraser Coats of Arms: http://www.heraldry-online.org.uk/fraser